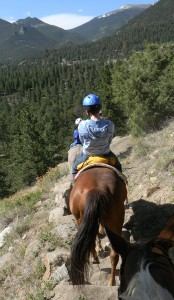 "Get it together, Mom!"  my oldest son yelled back at me.
I could not control my laughing.  I really had lost it.  We were in the middle of the beautiful Rocky Mountains and I had a case of the belly laughs.
Who knew horses could be so funny? If I were honest this post should be called "Poop, Pee, and Gas:  Horseback Riding in the Rockies."  It never occurred to me that the bodily functions of Apache, Rojo, Patches, and Gambler would be front and center stage on our horseback riding excursion,  but of course, that's what my kids remember most and talk about every time we discuss the trip.
The horses provided quite the comedy as we trekked through streams, over bridges, and across ledges.  Between all the laughter were unbelievable views and a complete sense of history as our guide retold stories of Teddy Roosevelt and his friends dining in tuxedoes out under the majestic evergreens now called Tuxedo Park.
The laughter began again after the first time our guide asked us to trot.  I had never done that before and was seriously bouncing all over the place and almost crying I was laughing so hard.   Again, my son instructed me, "Mom, use the stirrups and straighten your legs a little!"  So for the next 4 times it wasn't as bad but still produced quite a bit of laughter.
So for 2 hours we got to enjoy the beautiful, majestic creation.  I was glad that I had tried it.  Check off another new experience!  I can't wait to be on a horse again . . . even it provides as much "comic relief" as Patches, my trusty Rocky Mountain friend.
On a housekeeping note, come "Like" Fit4Miracles on facebook to receive information about each new post.  Miracles Fitness does not e-mail notifications for every post.  Thanks!  https://www.facebook.com/Fit4Miracles