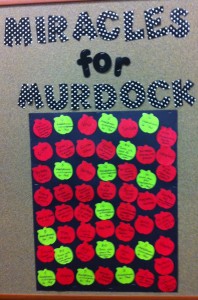 In August we asked you if you were interested in helping with educational opportunities for kids in need, and we got a lot of positive response!
We know that many schools in our area could use support, but because we already had a contact person through CovenantChurch, we have chosen to help Murdock Elementary this fall.  Murdock serves many students dealing with generational poverty, substance abuse, moms and dads in and out of prison, physical and sexual abuse, and little parental involvement at school.  We decided we would help support the teachers and their classrooms.
Dan contacted the principal and asked her for "dream" lists from her teachers.  The needed items range from staplers, glitter, and books to many technology needs like headphones and microphones for iPads (they are embarking on a 1:1 iPad project in several classes).
This is where Miracles Fitness comes in.  We are excited!! In each location we will have apple sticky notes with needed items on them.  You can PICK an apple, DONATE the item at one of our locations, and help SUPPORT Murdock.  It's easy, it's important, and it impacts the lives of kids in our community.
We kick off  "Miracles for Murdock" today so come on in and get pickin'!