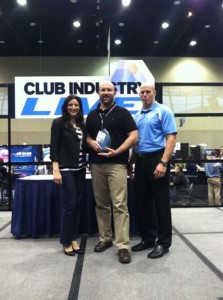 Wow, it's been a great (and exhausting) last few days!  On Thursday Dan and I headed out for Chicago to attend the Club Industry Show.  As many of you know Dan was in the final 3 for the PFP Trainer of the Year (out of around 600), and HE WON!!!  I think we were both a bundle of nerves as he waited on stage with the other 2 finalists, and after what seemed like 20 minutes of sponsors talking, they got to the winner.
When editor of PFP Lindsay Vastola finally said "Dan Ritchie,"  it was like everything went into slow motion.  I just couldn't believe it.  After all the struggles over the last 15 years -Masters and Ph.D with little kids, starting a small business, long days and nights, money being super tight, awards given to other people-I just couldn't believe they said his name.  And of course, then came the tears.
Let me just say, friends, I am proud of my man.  He has worked so hard in this field and specifically on fitness and aging.  He was a winner to me already, but to see him get national recognition for what he believes in and works so hard for meant a lot.
Over the next couple of posts, I hope to share a little more about Club Industry, and if you get a chance, make sure to give Dan a big pat on the back.  Thanks to our Miracles Fitness family for all the support!