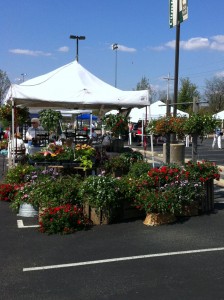 May greeted me with the usual end-of-school-year craziness and soccer mania that it usually does, but somehow it caught me off guard.  I haven't had much time to write.
We have managed to make it to the Sagamore West Farmers Market for the last 3 Wednesdays, and I can say I officially have my garden planted and my kids addicted to the LongHouse Farm kettle corn.  Call me sappy or granola or whatever, but I love seeing the local merchants and the community come together and all the veggies and flowers peeking out.  It's a happenin' place!
And a nice break from permission slips, missed doctors appointments, living history costumes (at 10:00 pm), and to-do lists.