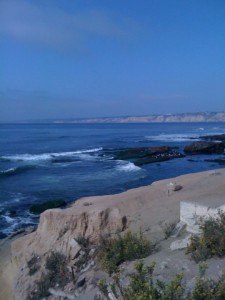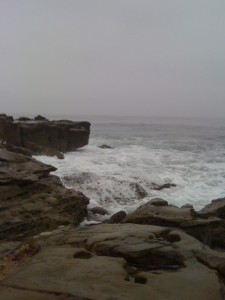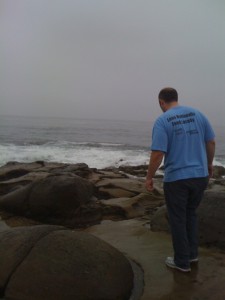 In my recent post I shared a little bit about my trip to San Diego.  I really don't like to fly but decided it was well worth it to get on a plane and have some time with my husband.   The trip started out kind of rocky when we first got there.  It was very late our time and we were exhausted from traveling most of the day.  When we got into our hotel, it was a dump.  I am not that picky but this place hadn't been remodeled since the 60's and was just terrible.  Thankfully, we called down right away and were refunded our money (just goes to show you that internet pictures don't always show the true picture).  We headed down the coast a few blocks and found another place that was fine and cheaper, so problem solved.
The next morning we were able to get up early because of the time change and get a walk in before Dan's meetings started.  I have never been to Southern California so it was really fun to see the ocean (so much different from the Florida beaches I was used to).  My favorite part was seeing the seals and sea lions (much like George Costanza I wish to be a marine biologist in another life).  The harbor seals were all lined up on the beach having a morning lounge session, and then down the beach a little bit were a dozen sea lions, a few "bullies" barking at everyone else.  Pretty amazing.  That night we got to see Dan's beloved Cubs play the Padres.  Not a great night for the Cubbies, but Dan and I have only been to one MLB game together ever so it was fun.  Great stadium and community atmosphere.
During the day Dan was gone to meetings so I spent probably too much time in front of the tv (there's that fear thing again-don't like to do things by myself).  But I did manange to walk on the beach a few times, go to the San Diego Museum of Contemporary Art, and watch the seals.  We were able to have our meals together and found some really great, affordable places to eat.  We went to a great little storefront place called Don Carlos Taco Shop-so authentic and sooo good!  Also, found a quaint place called The Cottage, and I had my first ever Fish Tacos!!  So fresh and so good!  Ok, maybe I didn't watch the calories as much as I usually do, but sometimes it's good to take a break and enjoy!
On the last morning before our flight we drove to Torrey Pines State Park and hiked the trails there.  The ocean view was breath-taking and the hike was sweat-inducing.  Not so great before a plane ride, but it was great to get out, exercise,  and be in nature one more time before we left.
So am I glad I had the courage to get out of my comfort zone and get out of town?  Yep!  I think it will be easier next time when the opportunity arises (for me, but maybe not so much for my parents who stayed with the kids!).