Found a great recipe and wanted to share.  I made these Chocolate Cupcakes on Friday and shared them with friends.  They were easy and tasted good.  Enjoy!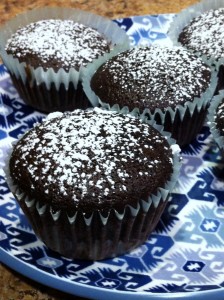 Ingredients
1 1/2 cups cake flour (not self-rising)
3/4 cup sugar
1/4 cup cocoa powder
1 teaspoon baking soda
1/2 teaspoon salt
5 tablespoons vegetable oil
1 tablespoon white vinegar
1 teaspoon pure vanilla extract
1 1/4 cups water
Directions
Preheat oven to 350 degrees. Line a 12-cup muffin tin with cupcake liners; set aside.
In a medium bowl, whisk together flour, sugar, cocoa powder, baking soda, and salt; set aside.
In the bowl of an electric mixer fitted with the paddle attachment, mix together oil, vinegar, vanilla, and water until well combined. Add flour mixture to the mixer and mix until smooth, scraping down the sides of the bowl with a spatula as necessary. Batter should look and feel more watery than normal cake batters.
Pour batter into prepared muffin tin, filling each cup 1/2 to 3/4 full. Transfer to oven and bake, rotating pan halfway through cooking, until a cake tester inserted into the center of one of the cupcakes comes out clean, 20 to 25 minutes.
Immediately remove cupcakes from muffin tin and transfer to a wire rack. Let cool completely before frosting or dusting with powdered sugar.
from www.marthastewart.com or click here