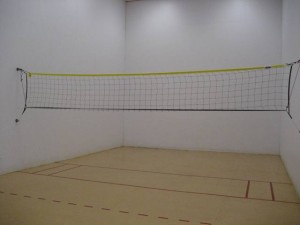 It was my first time playing wallyball.  It was my sophomore year of college at Southeast Missouri State, and a few guys had asked me and my girlfriends to play at the rec center.   I was pretty much up for it; it would be fun.  But it wasn't really the wallyball I was interested in.
That became pretty obvious to me as I stood in the raquetball court in a full, slow-motion daze staring at the little beads of sweat dripping down one of the guy's faces.   Just like the movies.  Everything else just seemed to disappear.
"What was that?"  I snapped out of it.  "Could you go over the rules just one more time?"  Geesh, so embarassing.  Get yourself together, girl!  That had NEVER happened to me before.
So I managed to listen to the rules this time without drooling over this cute guy, and we had a fun time playing wallyball.
Little did I know that this cute, strong, fit, fun guy would be my husband just that next summer.
Even better, it wasn't just all the outside stuff that was attractive, it was his heart that I fell in love with.  He was different than anyone I had ever met-spiritually strong, moral, kind, funny, caring, family-oriented, quiet, and confident.   It's those qualities that I still see today.  Along the way, he has been supportive of me in all my endeavors:  my academic pursuits, my teaching career, my role as a mother, my fitness journey, and more, and I am thankful that we are a team.  I am thankful that while things are not perfect I have a husband who cares for me and loves me deeply.  I could not have done this last year without him.
So Happy Valentine's Day to him and to all of you!  Hope you have a great day and month!
Maybe I need to take up wallyball  again. . .