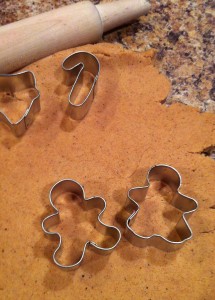 I found a new tradition at my house this year: gingerbread playdough.   It's easy, it's fun, and it smells sooooooo good.
At my daughter's fall party the room parent brought in pumpkin spice playdough.  Sometimes 2nd graders think they are too old for playdough, but the sweet-smelling pumpkin spiced dough was too tempting for their little hands. They all loved it.
So as Christmas approached, I wondered about a Christmas-scented one and found a gingerbread recipe. I have made a few batches of it, and it smells just as good as its cousin pumpkin spice. Every time my littlest guy plays with it, he says, "Can I eat it?" So tempting! It's been fun using the cookie cutters and creating gingerbread people, Christmas bells, candy canes, hearts, etc.
I know not everything has to be about fitness and food, but honestly it's nice to smell the dough and not have to eat the dough!
Here's the recipe:
Ingredients
1 cup all purpose flour
1/2 cup salt
2 tsp. cream of tartar
1 tbsp. ground cinnamon
2 tsp. ground ginger
1 tsp. ground nutmeg
1 tsp. ground cloves
2 tbsp. vegetable oil
1 cup water
Instructions
1.In a medium saucepan whisk together dry ingredients. Next mix in the water and oil and stir until a thick batter is formed. Cook the mixture over low/medium heat until a thick dough forms. Turn out onto parchment paper and knead until smooth. Makes about 2 cups of dough.
If you would like more info about it, here is a nice blog post about it. Hope you get to try it! Let me know how it turns out!