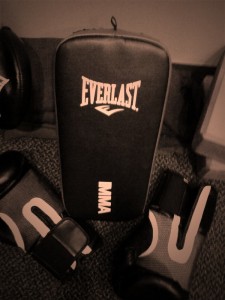 I haven't worked with a trainer since my boxing partner Ben left for Houston.  It's just hard to try new things.
I've really missed boxing though.  Maybe a little too much.  The other night I was behind the curved wall at Miracles, and it was like the kick target was calling my name.  Hmm. . .
So I strapped it up to the ball rack (big no-no) and let it hang there.  At first I thought it was going to work.  I was able to get in a few good kicks.  But on the fourth I hit my toe against the wall (ouch!), and it struck some sense into me.  Guess I gotta get a trainer.  Better ask for help ( so hard!).
I went to the front desk and asked one of our trainers, Tyler,  to hold the kick target for me.  As he came around the wall, he noticed the target hanging from the ball rack.
"What are you doing?!"  He then proceeded with the speech about the ball racks and not hanging anything on them.  "We're here to help!"  I know!  I know!!  Desperate times call for desperate measures, right?
He held up the target for me, and it really felt good to kick again.  I did several with my right leg and was ready to move on.
"Now left leg,"  Tyler instructed.
"No, I don't do my left leg.  It's too weak.  I can't get good kicks with it."
"Now left leg, " he said again.
Thinking he couldn't hear me I repeated, "No, I'll just do the straight kick with my right foot.  I don't do left leg."
"Now left leg."  Ok, I get it.  His hearing is just fine; this is a tug of war.  Left leg, no.  Left leg, no.  Left leg, no.  Until . . .
"Ok!  Left leg!"  I proceeded with some left leg kicks that weren't great, but they were good enough to get exercise.  And guess what?  It wasn't so bad.  It didn't kill me.  It was still fun.
I think I learned a few things:  our trainers have different styles, our trainers are there to help, they want what is best for us, our trainers know how to challenge clients when they don't know they need to be challenged, and . . .
Tyler's hearing is just fine!