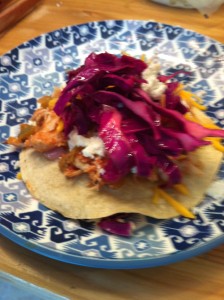 We tried this recipe the other night and it was so good that  I wanted to share it with you.  Yum!  It's good, but it's also easy and healthy.  You just put the chicken in the slow cooker with salsa and shred it later.    I originally used regular mild salsa, which was good, but then I used the Archer Farms salsa verde from Target, and it was even better.
I made serving easy with a tostada bar for the kids, so as you can see we added some different choices (picked up some queso fresco at Aldi-so good).  The slaw was super easy to make, and I've used it with different recipes since (think fish tacos or bbq pulled chicken sandwiches).   I have already cooked the chicken again and used it for a taco night.
Hope you get to try it; it's a keeper.  Click here for the recipe.