Dan and I are blessed to be in a small group with 6 other couples from our church.  We get together twice a month: once with just adults and once with all the kids (25 and counting).  On our adult-only nights we usually try to have a simple theme like Mexican, Italian, chili, salads, etc. and everyone brings something.
This past Friday we did an appetizer/dessert night, and I thought some of these could work for Thanksgiving appetizers.  I was so impressed with what people brought that I had to take a few pictures!  I'm sorry they are blurry; I only had my phone.  Everything was so good, and we had a lot of laughs to go along.  When you hear someone say that they almost peed in their pants they were laughing so hard, you know it's a good night. ; )  Here are some of the delicious dishes (the fruit cups were so beautiful!):
Yummy Veggie Pizza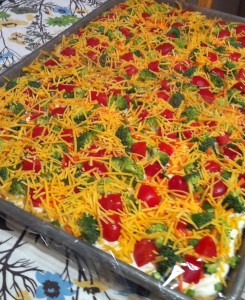 Mexican Layer Dip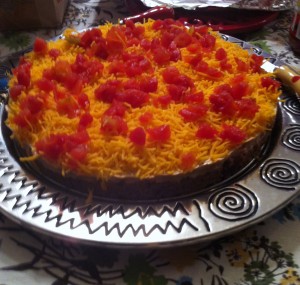 Fruit Cups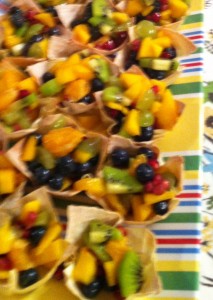 Feel free to share more ideas.  Do you have any colorful, healthy appetizers to tell us about?