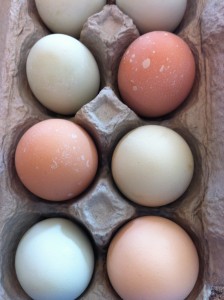 We have been blessed lately to get fresh, straight-from-the-hen eggs.
I looove the colors of these eggs.  Seriously, I have a problem.  I "ooh" and "ahh" over them way too much (with my husband rolling his eyes in the background).  And then I crack them open and their bright orange yolks spill out, and the ooh-ing and ahh-ing starts all over again! Don't even get me started on how good they taste.   They are simple and yet so beautiful.  Even my kids notice the difference in the color and taste.  It motivates me to eat cleaner and "fresher" and makes me look forward to strolling through the farmer's market.
Are you re-thinking the way you buy food?  Do you have any tips?  I'd love for you to share!